The Hiawatha Traditional Music Festival returns in 2023 for its 43rd annual event
An interview with Terri Bocklund, Executive Director and Festival Director
Since 1979, music enthusiasts in the Upper Great Lakes region have been participating in the Hiawatha Traditional Music Festival. In 2023, the 43rd annual festival will be held from July 21st to July 23rd.
The upcoming festival promises to deliver a wide range of exciting activities for attendees, including musical performances from a diverse group of traditional artists, workshops, jam sessions, vendors selling food and other goods, and more. The main stage will feature musicians from both the local and national scene, while the Teen Scene will cater to teenagers with music, crafts, and other fun activities. Additionally, the festival's Children's Area will provide entertainment and the opportunity for kids to play with musical instruments in the Yooptone Musical Petting Zoo.
Musicians on the 2023 main stage include:

Buffalo Nichols
Buffalo Rose
Djangophonique
Lizzie No
Michael Cleveland & Flamekeeper
Michael Waite
Pert Near Sandstone
Strung Together
The Honeydew Drops
Wild Goose Chase Cloggers
The festival opens Friday evening with the THUNDERATION Drum Circle at 6 pm.
The full festival schedule can be found on Hiawatha Music's website here.
A new addition to Hiawatha this year is the Turtle Tent, which is a special area devoted to providing gentle, calming activities and experiences for neurodivergent guests and their families. The Turtle Tent will be located on the field at Tourist Park near Camping Area D. More information on the Turtle Tent can be found at this link.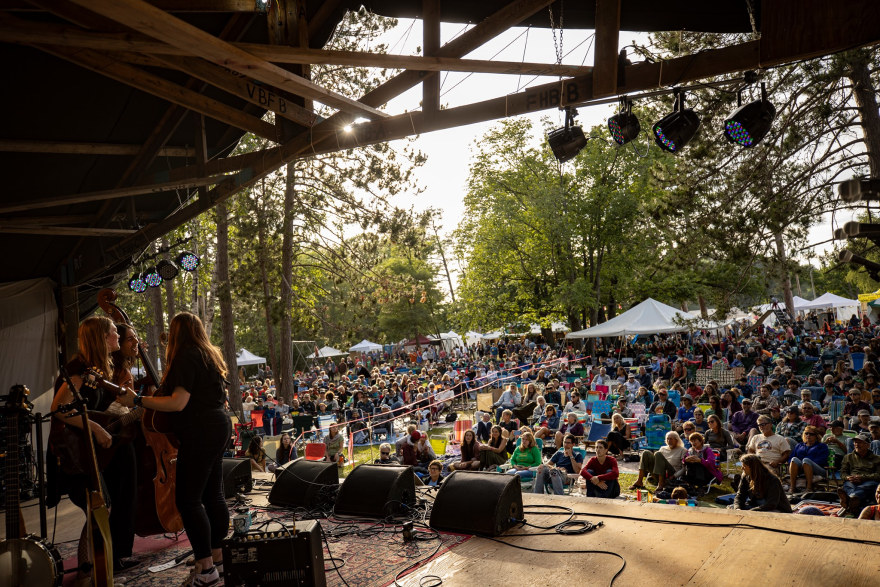 Kurt Hauswirth discussed this year's festival with Terri Bocklund, Hiawatha Executive Director, and Festival Director:
A conversation with Terri Bocklund
The festival runs from July 21st through the 23rd at the Tourist Park campground in Marquette, Michigan.
For more information and tickets, visit hiawathamusic.org or the Hiawatha Music Co-op Facebook page.